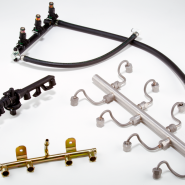 BING Fuel Supply
High quality standards in materials and workmanship are the basic requirements for the use of fuel-carrying components, especially in the automotive industry.
As a supplier to the automotive and motorcycle industry, it is our objective to establish more in the range of fuel-carrying systems and components. Helpful here are the decades of experience, which we have with our mixture preparation systems such as carburettors and throttle bodies.
Fuel rails for throttle systems and fuel supplies for heaters in cars and trucks are among the first systems that were developed in this context.
For fuel rails we regularly use fuel-resistant plastics to reduce the weight of the parts.
Fuel supplies for stationary heating systems are manufactured to a considerable percentage of stainless steels, which can be exposed to very high temperatures.
Further applications for fuel-carrying components are fuel rails for gas fueled engines and starter strips that are eligible for the boot process of bioethanol-powered petrol engines.
For best results, many of the built parts are manufactured by BING. This includes the preparation of the necessary pipelines that are cut to size and processed on special bending machines into the desired form. The fuel-resistant and leak-free connection of the individual components is usually made via in-house brazing furnaces, or is ensured by appropriate laser welding systems.
For cooling of pistons and gears, oil spray nozzles are used.
Our innovative product portfolio has been growing for nearly 25 years. You can benefit from our experience in the development of customized solutions.
In all these fuel dosage components or fuel rails, a high degree of reliability is required as this is for safety-relevant components. Nothing can be left to chance in mass production. So every single module is subjected to a leak test.